Why the Dutch are different
One day Ben Coates stranded at Schiphol Airport. He did not know what to do and phoned a Dutch girl he had met several months before. He stayed for dinner and stayed for good. Ben Coates takes his readers to his adopted country and shows them much more than the usual tourist attractions. 'Why the Dutch are Different' is both a travelogue and a personal account of an Englishman who went Dutch.
Dutch facts
'Why the Dutch are Different' is Ben Coates' personal story interwoven with tourist attractions and typically Dutch facts and believes. Did you know that The Netherlands is the only country in the world where prostitutes are entitled to sick pay and where prisons are closing due to lack of inmates?
He explores what makes the Dutch Dutch. He explains that Holland is not the same as the Netherlands and why orange is an important colour. He comes to the conclusion that the Dutch are the tallest people in the world and finds out the reason for this.
He learns who really killed Anne Frank. This nation who loves milk and beer, works fewer hours than other nation but manages to be richer than people in other countries. Hard to believe but true.
Ben Coates married a Dutch girl, learned the language and worked for a Dutch company. 'Why the Dutch are Different' is a personal portrait of an Englishman who went Dutch and has never regretted this for one single moment.
Why the Dutch are Different: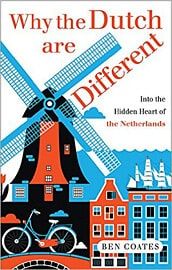 A Journey into the Hidden Heart of the Netherlands
By Ben Coates
Paperback 304 pages
Published 2015
ISBN 185788633X