This is a very easy walk because most of it can be done while sitting down on the steps of the National Monument on Dam Square. If you have money to spend, go wild in Amsterdam Diamond Center, if you are on a low budget just engage in people watching.
From Madam Tussauds to the Royal Palace
1. Sit down at the foot of the National Monument and survey the surroundings. At the corner of Dam Square and Damrak you will see De Bijenkorf an upmarket department store. Five floors display goods from international designers to hip labels and from socks to cosmetics. Bijenkorf means beehive. The view from the roof was used as the fictive capital of Tomania, in Charlie Chaplin's film the Great Dictator.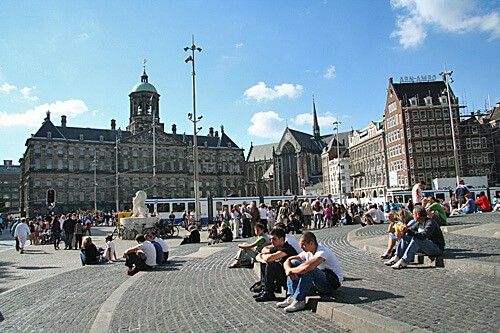 Dam Square and Royal Palace
2. Across from where you are sitting is the Royal Palace which started life as Amsterdam's town hall. On the right is Nieuwe Kerk, New Church, built in the fifteenth century and not so new after all. It is now used as an exposition area with rotating exhibitions.
3. The long queue at the corner of Rokin indicates the entrance to the Dutch branch of the wax-works museum Madam Tussauds. The wax works experience is divided into two parts; scenes from Dutch history and national and international celebrities. Sculptures are regularly refreshed. When celebrities are no longer famous or when Prime Ministers have left office they are removed. It takes three months to create a sculpture. The first cast is made entirely from clay. The final product is not made of wax but of fiberglass.
4. Just round the corner of Rokin and Dam is Amsterdam Diamond Center where you can watch diamonds being cut, but whether you buy depends on your wallet.
5. Right behind the National Monument is Grand Hotel Krasnapolsky. At the end of 19th century a Polish immigrant, Wilhelm Krasnapolsky, leased a run-down coffee house which he renamed Café-Restaurant Krasnapolsky. He kicked it into new life, refurbished it and put in mirrors for a wide view. He installed electric light, a novelty in late 19th century Amsterdam and his business flourished. He bought palm trees and other exotic plants and trees and created the Winter Garden which is still a chic gathering place.
                    Dam Square and National Monument
photo credit Marianne Crone