See and Do
From the Royal Palace on Dam Square to peaceful Begijnhof and from the floating Flower Market to Skinny Bridge, every nook and corner in Amsterdam is worth checking out. There is so much to see and do in Amsterdam that one weekend may not be enough.
Wander along romantic canals. Rent a bike. Climb the tower of Westerkerk. Whatever you do, always look high up to discover the most beautiful details decorating the gabled house fronts. Follow the crowd and without consulting your city map you will arrive at the Red Light District. Be sure to go Dutch and rent a bike and pedal your way through the city. And don't forget to take a selfie on Skinny Bridge before leaving Amsterdam.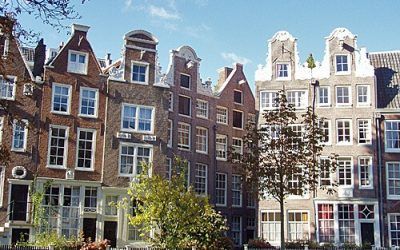 Tucked away behind Kalverstraat, you will find Begijnhof, Beguine Court, a green space that offers a welcome break from Amsterdam's people-packed streets. Sneak into this haven of rest through a little gateway on Spui or go to the main entrance on Gedempte...
read more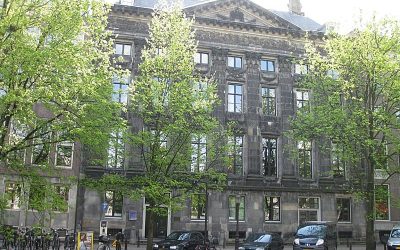 Amsterdam canal houses are characterized by narrow fronts. Trippenhuis is an exception to this rule. This seventeenth-century canal house is a typical example of a mansion where a rich merchant lived and the wider the front the wealthier its owner. Trippenhuis was the...
read more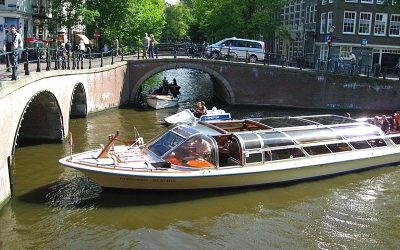 A canal cruise is the perfect way to unwind after a hectic day of sightseeing aboard an Amsterdam canal boat. Pass under bridges festooned with strings of lights. Canal houses and cafés glide by. Soak up the tranquil atmosphere while you cruise through the canal belt...
read more
I Amsterdam City Card is your ticket to experience Amsterdam in an affordable and relaxed way. You'll see more and save money at the same time! No need to buy separate tickets for attractions and public transport. The I Amsterdam Card not only affords you free...
read more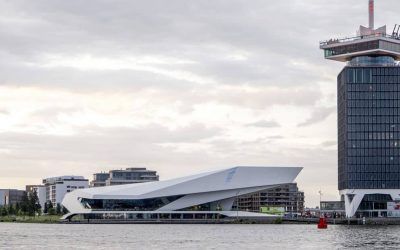 Amsterdam has a lookout tower! This is good news because there are no tall buildings in the city apart from the Westerkerk whose spire points only 85 m into the air. Amsterdam Tower is 100 meters high and situated on the IJ River behind Amsterdam Central Station.  On...
read more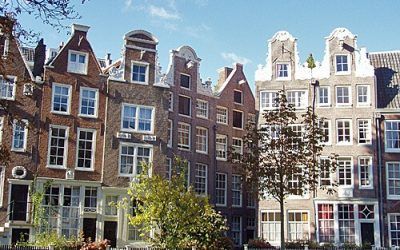 Tucked away behind Kalverstraat, you will find Begijnhof, Beguine Court, a green space that offers a welcome break from Amsterdam's people-packed streets. Sneak into this haven of rest through a little gateway on Spui or go to the main entrance on Gedempte...
read more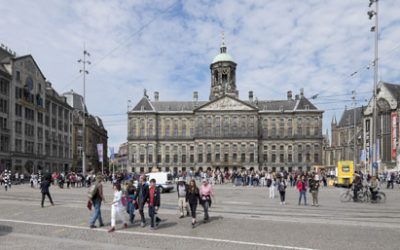 Dam Square is at the very heart of Amsterdam. The National Monument is right in the middle of this vast square that buzzes with activity all year round. In spring, the fun fair attracts locals and tourists with its Ferris wheel. In summer, street entertainers and...
read more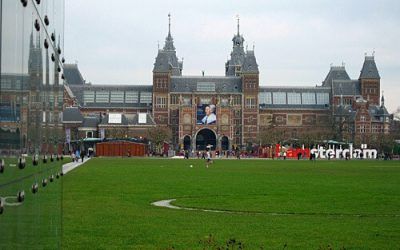 Museum Quarter houses Amsterdam big three – Rijksmuseum, Van Gogh Museum and Stedelijk Museum of Modern Art – showcasing the brilliance of Dutch masters, modern art and impressionists. Add Amsterdam Concert Hall, throw in a high-end shopping street or two and you have...
read more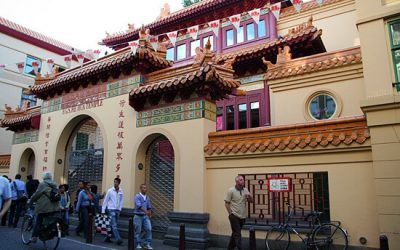 The Fo Guang Shan He Hwa Temple in Amsterdam Chinatown is the largest Buddhist temple in Europe and built in traditional Chinese style. This Buddhist Temple is locally known as the Zeedijk Tempel. Zeedijk is the name of the street where you can find this temple. The...
read more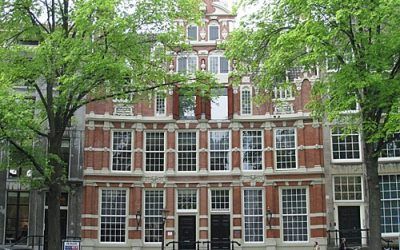 Canal houses were once the homes of wealthy Amsterdam merchants. Today, these houses are offices, museums and sometimes hotels. Bartolotti House is one of these eye-catching canal houses in Amsterdam. This mansion is not open to the public; only its exterior can be...
read more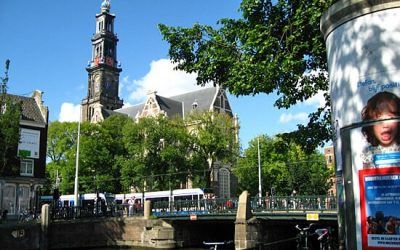 Late 16th and early 17th century Amsterdam expanded. Homes along the newly dug canals were built for the growing population of Amsterdam. Not only houses were needed also churches. Westerkerk became the showcase Protestant church for wealthy Amsterdam citizens who...
read more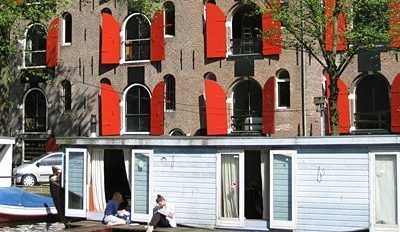 Amsterdam is the city of gabled buildings, tranquil canals and 'bridge of fifteen bridges'. Canals and waterways crisscross the historic centre. Working barges sail past. Houseboats festooned with flower boxes bob at their moorings. A couple reclining in a dinghy,...
read more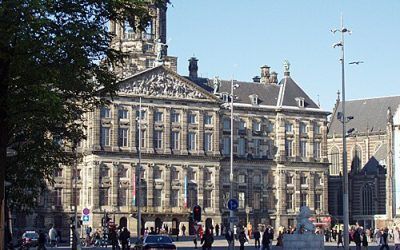 Take the number of days in a year (365). Put one before and nine after it (1 365 9) and you will know how many wooden piles were rammed deep into the soggy soil of Amsterdam to prevent the Royal Palace at Dam Square from collapsing. Royal Palace is a misnomer because...
read more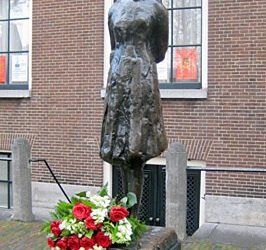 Amsterdam honours Anne Frank with two statues. The first shows Anne Frank when she is about ten years old. The second shows Anne on her way to the hiding place of the Frank Family during the Second World War. She describes in her diary in minute detail what she was...
read more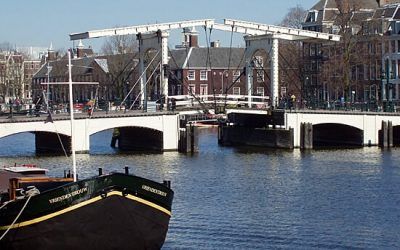 Skinny Bridge is one of the 1,200 bridges that span the canals that crisscross Amsterdam. Some are simply a means to cross the water, others are picturesque or true feats of engineering. Many are illuminated at night and offer a romantic backdrop. Magere Brug or...
read more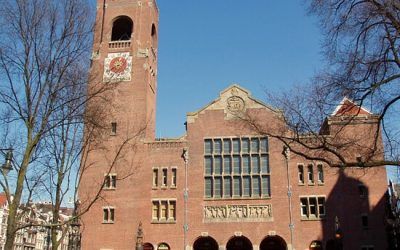 When walking down Damrak from Centraal Station to Dam Square in Amsterdam, you pass a wine-red brick building, not very elegant, not very inspiring. This building is the Beurs van Berlage, the former Commodity Exchange. Built on reclaimed land, supported by wooden...
read more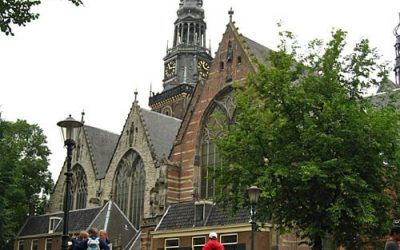 The Oude Kerk stands right in the middle of the historic centre of Amsterdam. Dating back to the thirteenth century, this church is both the oldest building and the oldest church in Amsterdam. The Oude Kerk is noteworthy for its wooden vaulted ceiling and the...
read more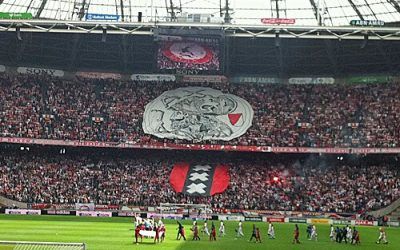 The Ajax stadium in Amsterdam, better known as Johan Cruijff ArenA, is the home of AFC Ajax, the city's celebrated home football team. Join the 53,502 devoted fans to see a match or if you can't make it, take a guided tour of the Netherland's largest stadium. Better...
read more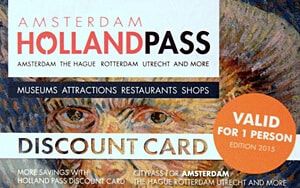 The Amsterdam Holland Pass is your ticket to hassle-free Amsterdam, a must-have for visitors who like to enjoy Amsterdam to the full: a guide book, a free ticket for the hop-on-hop-off bus is included and queueing for the popular museums is history. Take your pick...
read more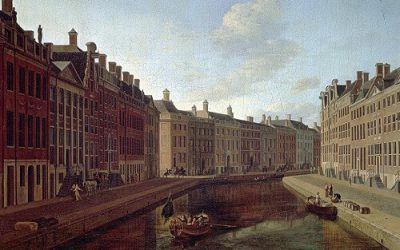 Golden bend - Gouden Bocht - that is where the most coveted canal houses in Amsterdam. All these mansions clustered around the curve of Herengracht between Spiegelstraat and Vijzelstraat. This is the stretch of the canal where, in the 17th century, wealthy merchants...
read more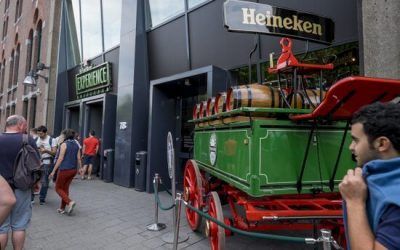 Want to taste Heineken and learn all about brewing and marketing of the most famous beer of the world? Then the Heineken Experience in Amsterdasm is exactly where you need to go. The Heineken Experience tour starts with a short history of the Heineken family and the...
read more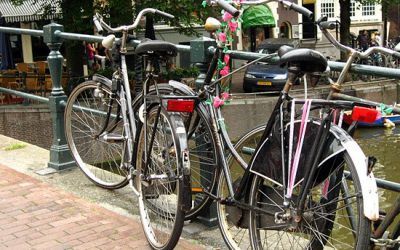 Bike tour in Amsterdam: rent a bike! It is a bike-friendly city, not only because it is a compact city but also because of the bike lanes and the absence of elevations. The only hurdles are steep bridges and traffic humps. And what about head winds and downpours?...
read more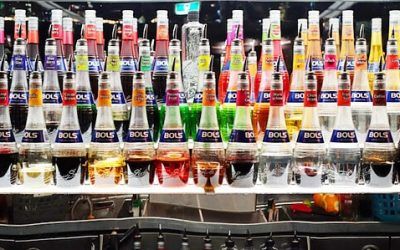 The House of Bols Cocktail and Genever Experience in Amsterdam takes you on a tour through 'The World of Flavour'. This interactive trip ends with sipping a cocktail of your choice. You will also learn how to intensify your taste, to refine your smell, mix cocktails...
read more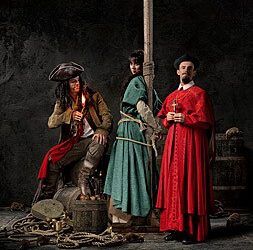 Amsterdam Dungeon is not for the weak-hearted. Step back into the darkest times and be part of the city's blood curdling history. Take part in a gruesome show of 80 minutes and walk through 500 years of creepy history. Will you escape by the skin of your teeth or are...
read more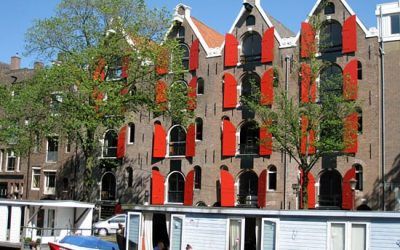 Warehouses and gables are all along Brouwersgracht. The rows of red shuttered windows along this canal in Amsterdam look like multi-occupancy cuckoo clocks. No wonder that Brouwersgracht, Brewers' Canal, features in almost every Amsterdam brochure or guidebook. This...
read more