Amsterdam Honours Anne Frank
Amsterdam honours Anne Frank with two statues. The first shows Anne Frank when she is about ten years old. The second shows Anne on her way to the hiding place of the Frank Family during the Second World War. She describes in her diary in minute detail what she was wearing on the day she and her family moved into the hiding place on a rainy summer day in July 1942.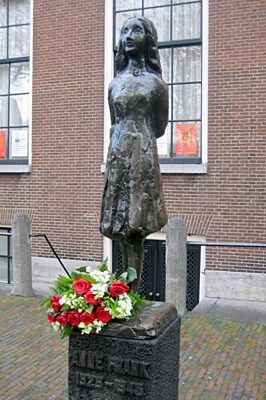 Anne Frank Statue at Westermarkt
Westermarkt
The statue on Westermarkt is only a few steps away from the hiding place on Prinsengracht where the Frank family lived during two years. This bronze statue captures Anne's personality as we know it from her diary; with hands on her back she looks up, full of hope.
Merwedeplein

The second statue is in a small park opposite number 37 Merwedeplein, the apartment where the Frank family had lived since 1933 when the family moved from Germany to Amsterdam. Anne was then four years old. The family left the apartment on 6 July 1942 to go into hiding on Prinsengracht, now the Anne Frank Museum. The statue represents Anne on her way to the hiding place. She is wearing several layers of clothing and carries a bag in one hand and clasps a briefcase under the other.
Anne's Diary Entry

This is the diary entry of Wednesday, 8 July 1942 in which Anne Frank describes what she is wearing:
'I was wearing two vests, three pairs of trousers, a dress and on top of it a skirt, a jacket, a raincoat, two pairs of stockings, sturdy shoes, a scarf, a cap and lots more. I was suffocating even before we left the house, but no one bothered to ask me how I felt.'
                                                                            Anne Frank Satue at Merwedeplein
Photo credits: Franklin Heijnen and Laura @Flickr