Self Guided Amsterdam City Walk: Red Light District
Amsterdam's Red Light District is the district around the Oude Kerk or Old Church. Canals and narrow alleys criss-cross this part of the city. The Red Light District's outer boundaries are Kloveniersburgwal, Zeedijk and Warmoesstraat, Amsterdam's oldest streets. This part of the city is peppered with bars, sex shops and coffee shops aka hash bars. Go on a do-it-yourself city walk or join a guided tour (that way you won't miss any important sights. What's more your guide will tell interesting facts about the Red Light District.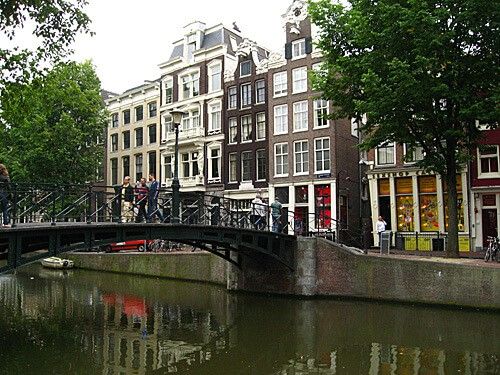 Oudezijds Voorburgwal canal in the Red Light District in Amsterdam
City Walk
Explore the Red Light District by day and notice beautiful old buildings, kinky shops, a secret church and a museum without art.
START: Damrak, in front of Beurs van Berlage
FINISH: Nieuwmarkt
Route: Damrak, Oude Brugsteeg, turn right Warmoesstraat, first left Enge Kerksteeg, turn left and keep canal on your right Oudezijds Voorburgwal, turn right at end Zeedijk, turn right after He Hua Temple into Molensteeg, Oude kennissteeg, cross canal turn left then right Trompetterssteeg, Bethlehemsteeg, Oude Hoogstraat, turn left Kloveniersburgwal, Nieuwmarkt.
Highlights
1. Beurs van Berlage (Berlage Exchange)
Wine-red brick building once commodities and stock exchange, now conference centre, café-restaurant, concert and exhibition hall.
2. Shopping in Warmoesstraat
Warmoesstraat a street filled with bars, coffee shops, sex shops and tourists. Erotic toys rub shoulders with tulip decorated fridge magnets.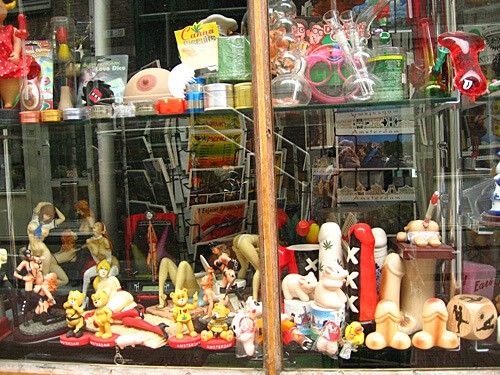 Shopping in the Red Light District in Amsterdam
3. Enlightenment in a Chinese Temple
Amsterdam's Chinatown complete with a Buddhist temple brims with Chinese, Thai and Vietnamese food treats.
4. Trompetterssteeg
Amsterdam's narrowest alley, only one metre wide, where women in lace-trimmed lingerie sit behind windows.
5. Secret Church
A charming museum and Amsterdam's best kept secret, an attic converted into a secret church recalling the days when Catholics were not allowed to practice their religion freely.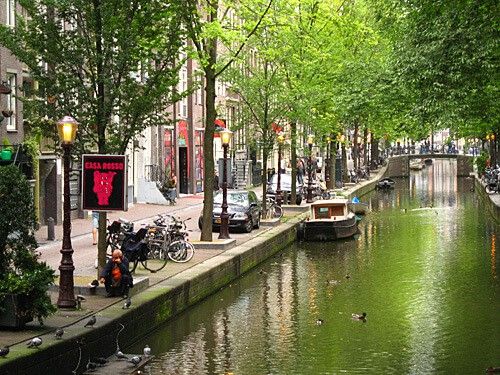 Oudezijds Achterburgwal, leafy canal in the centre of the Red Light District
6. Oude Kerk (Old Church)
Stroll across the tombstones, look up at the gilded ceiling, brocaded pillars and stained-glass windows.
7. Cannabis College
Learn for pleasure – this informal information centre provides everything worth knowing about hemp from the uses of medicinal marihuana to creative applications of industrial hemp. Visit the grow room and learn how to grow your own cannabis plants.
8. Nieuwmarkt
This large, open square dominated by the Waag is Amsterdam's oldest city gate, later weighing house now restaurant.
Photo credit Marianne Crone