Date/Time
Date(s) - 01/07/2017 - 02/07/2017
Hele dag
Categorieën Geen Categorieën
Locatie: Nelson Mandelapark
Kwaku Summer Festival is the largest multicultural festival in the Netherlands. Every Saturday and Sunday in July and August Nelson Mandela Park in Amsterdam Southeast buzzes with activities -live music, film, sports, food, dancing, information and meetings. Each year the festival has a different theme which is reflected I the music, performances, art and literature.
What does Kwaku mean?
In the African tradition, it is customary that children bear the name of the day they on which they are born. Boys that were born on a Wednesday were named Kwaku. Many Suriname people of African descent gave their sons born on Wednesday this name as well.
Dance and Music
Kwaku is a multi-cultural showcase of live music, dance and ethnic food. Over the years participation has widened and now includes other cultures, West-African, Chinese, Indonesian and lots more, showing the cultural mix of people that live in Amsterdam South-East formerly known as de Bijlmer suburb.
Food and Drink
Kwaku also means people-watching and tucking-in. Roti, Suriname version of potato, vegetable and meat wrap, bara, spicy bread roll. Enjoy Djogo, the Suriname answer to Heineken that sells out in a flash, but new batches arrive in the wink of an eye.
The Football Match
This multi-cultural festival organised by Suriname people living in Amsterdam's Bijlmer suburb, together with many other Bijlmer inhabitants. It started in 1975 as a football tournament for Suriname youngsters living in the Bijlmer who showed off their talents. Today, a football tournament is still part of the festivities.
Address Nelson Mandelapark, Amsterdam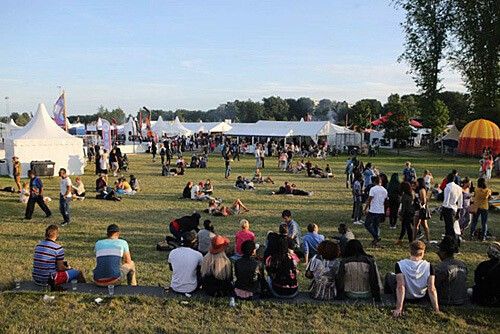 photo kwaku festival