Purchase the Amsterdam City Pass and discover Amsterdam hassle-free. This City Pass affords free entry and fast track entrance to the Rijksmuseum or the Van Gogh Museum. Also included are a free canal cruise and a free train ticket from Amsterdam Schiphol Airport. Add to this 20% discount on attractions, other museums, bike tours and excursions and you will understand why this city card is worth having. The Amsterdam City Pass makes your trip very affordable!
TIP: Purchase your Amsterdam City Pass online and enjoy a discount!
Discover Amsterdam
The Amsterdam City Pass allows you to discover Amsterdam at your own pace and at leisure. This Pass allows you skip-the-line and free entry to popular museums such as the Rijksmuseum and the Van Gogh Museum. Included is a one-hour canal cruise through picturesque Amsterdam canals. What's more, a train transfer from Amsterdam Schiphol Airport is also included! Add to this a 20% discount on Amsterdam attractions and museums such as Stedelijk Museum, Heineken Experience, Madame Tussauds and a ticket for the hop-on hop-off bus. The Amsterdam City Pass also comprises handsome discounts on bike tours and excursions (to the iconic flower garden De Keukenhof, the fishing village of Volendam and a city trip to the Hague)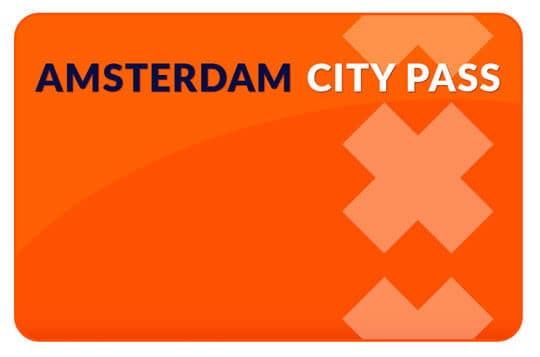 Advantages
The Amsterdam City Pass is especially attractive for tourists who want to see and experience the most important highlights of Amsterdam: Rijksmuseum and a canal cruise. This City Card is not limited to 24 or 48 hours: you decide what you want to see and when. What's more all the tickets and vouchers are sent to you. There is no need to physically collect your card when you arrive in Amsterdam.
How does it work?
Purchase your Amsterdam City Pass online. Select your arrival date, very important for your free train ticket from Schiphol Airport. Indicate if you want to visit the Rijksmuseum or the Van Gogh Museum. After making your booking, you will receive a ticket either for the Rijkmuseum or the Van Gogh Museum, tickets for the canal cruise and the Airport transfer. You also receive a discount code with which you get discounts at other museums, attractions, tours and excursions in Amsterdam.
City Pass
A City Pass allows you a hassle-free and relaxed city trip. Generous discounts and fast track entrance save you both time and money. More information about city passes and discount cards in other cities at Citypasses.eu.