Public Transport Tram, Bus and Metro
Public transport in Amsterdam is by tram, metro, bus and ferry. Amsterdam is a compact city and most sights are within walking distance of each other. Yet, it is fun to explore Amsterdam by tram and see the city in a relaxed way. There is a whole gamut of different types of tickets. Make it easy for yourself and order your public transport tickets online.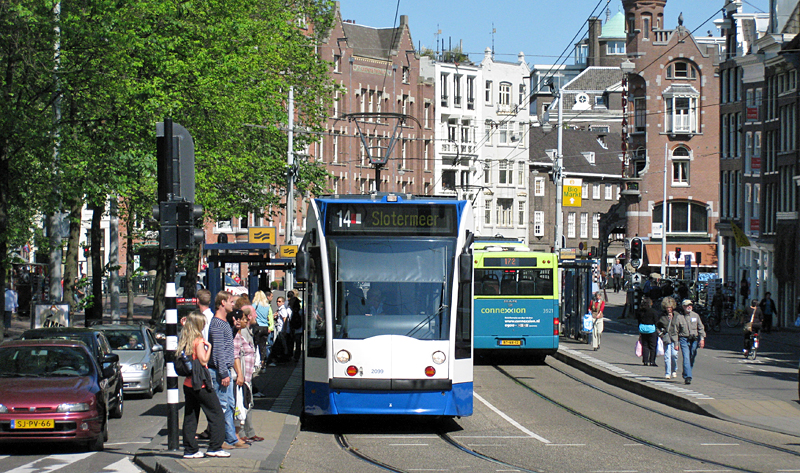 Public Transport in Amsterdam
GVB (Gemeentelijk Vervoerbedrijf) is the municipal public transport company in Amsterdam. Public transport (openbaar vervoer, abbreviated to OV) in Amsterdam comprises:
* 15 tram lines serving all districts except Amsterdam-North
* public ferries to Amsterdam-North (free of charge)
* 5 metro lines radiating from Amsterdam Central Station to the suburbs
* day and night buses
Three methods to pay for public transport tickets
1. disposable OV chip card
2. contactless payment inside tram and bus and at the entrance to metro stations
3. ticket from the driver or conductor
4. e-ticket via app
5. rechargeable OV chip card
How to use Public Transport
Check-in and check-out using the card readers in tram,  bus or metro is mandatory, including when making a transfer to another form of transport.
If you bought a Day Ticket from the bus driver or from the machine in the tram, you do not have to check in and out. The Day Ticket is valid on the day of purchase until the last service of that day
Trams, buses and metros run daily between 06.00 – 00.30
Night buses run between 00.30 and 07.00 in the morning. A separate night rate applies to the night bus. However, a day or multi-day ticket is also valid on the night bus.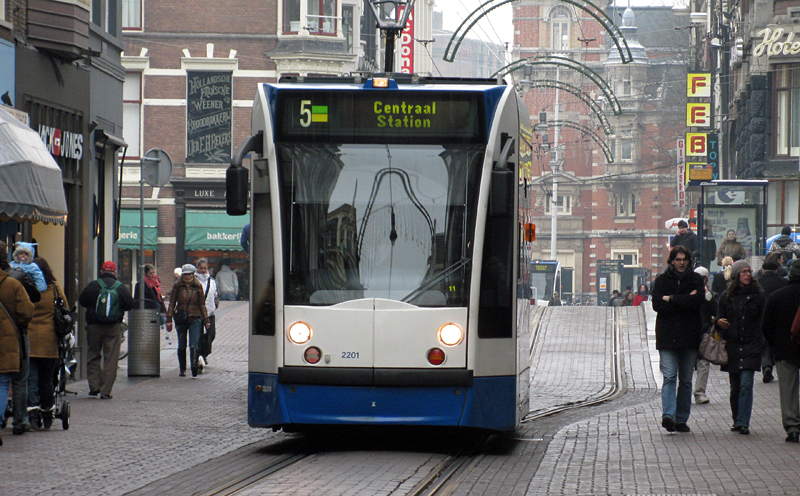 Where to buy a disposable OV chip Card
* from GVB service points, ticket machines at train stations (cash, debit or credit card) or on board trams and buses from the driver or conductor (no cash, debit or credit cards only)
* from the driver or conductor, no cash cards only
* e-ticket via the 9292 app from Google Play or in the App Store
There are two types of disposable tickets
* One-hour ticket
* 1, 24 or 48-hour ticket
Where to buy a rechargeable OV chip card
From GVB ticket machines, GVB Tickets and Service Points, a number of newsstands (Primera, AKO, Readshop, Bruna) and supermarkets (Albert Heijn, Plus)
The rechargeable OV chip Card enables you to travel hassle-free throughout the Netherlands by train, bus, tram and metro. You can recharge your card from ticket machines at train stations or at the Service Points below.
Photo: Service point opposite Amsterdam Central Station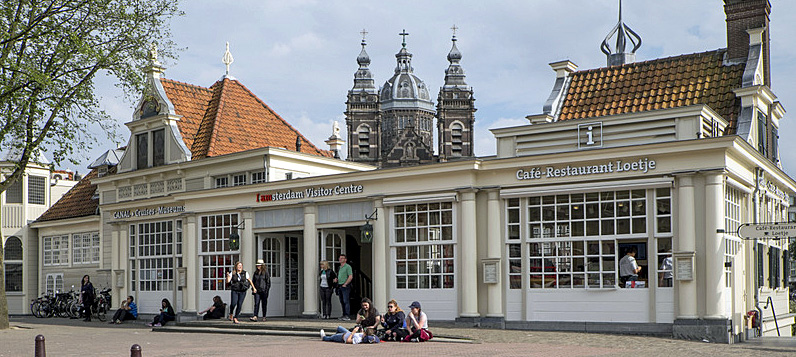 Addresses of main GVB Service Points
There are many Service Points scattered all over Amsterdam.
GVB Service & Tickets Stationsplein, opposite Amsterdam Central Station
7 days a week 08.30 – 19.00
GVB Service & Tickets Station Bijlmer ArenA
Monday – Friday 08.30 – 19:00, Saturday and Sunday 10.00-18.00.
GVB Service & Tickets Station Amsterdam Zuid
Monday – Friday 08.30 – 19:00, Saturday and Sunday 10.00 – 18.00
GVB Service & Tickets metro station Station Noord
7 days a week 10:00 – 18:00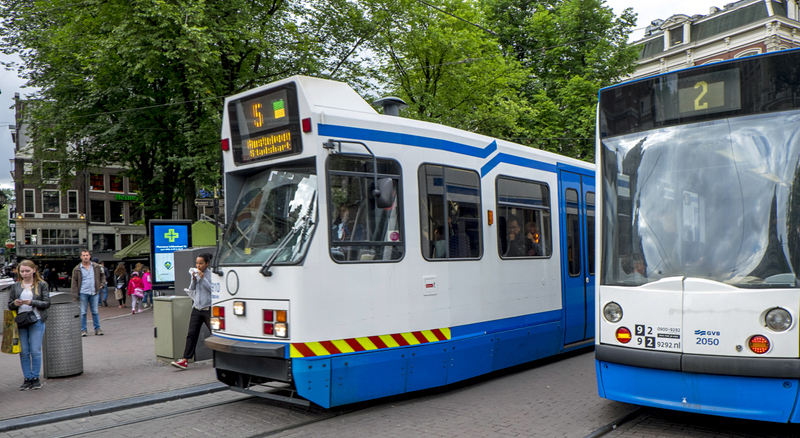 The Easy Way Out for Tourists
Deciding and buying a public transport ticket is not an easy task. Yet, there are three easy options for tourists
1. I amsterdam City Card (buy here)
This card allows you unlimited use of public transport in Amsterdam for 24, 48, 72 or 96 hours. In addition the card allows discounts on museums and attractions.
2. GVB day tickets (buy here)
Valid form 1 to 7 days at different prices and can be used on all GVB trams, buses and metros. Note: ONLY on GVB public transport)
3. Amsterdam and Region Travel Ticket (buy here)
Particularly suitable if you want to explore places in and outside Amsterdam. Unlimited use of all tram, bus and metro lines of GVB, Connexxion, AllGo, R-net and EBS (including night lines) and NS (Dutch Railways) for 1, 2 or 3 days in Amsterdam and the region.
Disclaimer
The excursion, tickets and tours are constantly adapted to the wishes of the visitors and descriptions may differ slightly. Therefore, it is recommended to read the product description.
photos: Marianne Crone