Spend the afternoon in Ouderkerk aan de Amstel, a typically Dutch village, and the evening in Wijnbar Raak for authentic Dutch atmosphere. Leave the tourists in the centre of Amsterdam and meet the locals in Ouderkerk aan de Amstel, only 9 kilometres south of Amsterdam. Sip famous wines from countries like France and Italy but also wines from Greece, Croatia and USA. Order your wine by the glass or the bottle.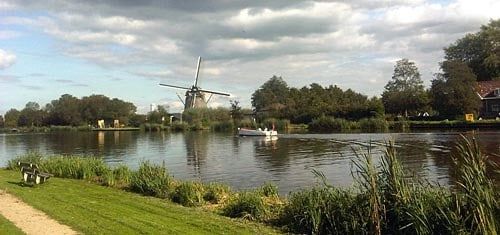 Windmill 'de Zwaan' in Ouderkerk a/d Amstel

Location
Wine Bar Raak is located on the Amstel River in Ouderkerk aan de Amstel, a charming, authentic Dutch village. This delightful village prides itself in a windmill, a drawbridge and farmhouses with thatched roofs. Ouderkerk is also home to the oldest Jewish cemetery in the Netherlands, Beth Haim. The age-old tombstones are beautifully engraved and bear inscriptions in three languages; Portuguese, Dutch and Hebrew.
Wine
The wine menu of Wijnbar Raak features as many as 100 wines; Bourgogne, Beaujolais, Loire, Rhone, Bordeaux. They are all here by the bottle or by the glass. Add to this wine from Spain, Greece, Germany, New Zealand and Australia and you know why Wijnbar Raak is the place-to-be.
Cocktails
Cocktail addicts have a great time at Wine Bar Raak. Try Damrak Amsterdam Original, gin and tonic with kumquat, juniper berry and lime, or Rémy ginger concocted with Rémy Martin, lime, ginger, orange and ginger ale.
Fingerfood
Nibble flammkuchen – a type of pizza but a thousand times more delicious – topped with crème fraiche, red onions and mushrooms. The cheese board and charcuterie go very well with the nut loaf. If you are really hungry go next door to Restaurant 't Deurtje. Order a la carte or indulge in the two- or three-course lunchmenu.

Address
Wine Bar Raak
Amstelzijde 51
1184 TZ Ouderkerk aan de Amstel
Public Transport to Ouderkerk
Metro to station Amsterdam Bijlmer Arena Connexxion Bus 300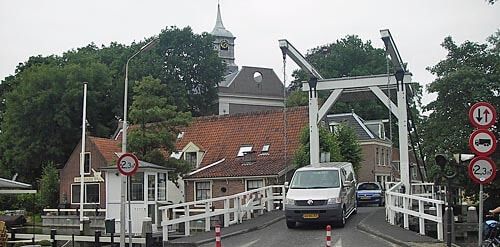 Drawbridge in Ouderkerk a/d Amstel