Recipe Traditional Dutch Hot Chocolate Drink
Everyone seems to have his or her favourite method of making hot chocolate. Some simple pour hot milk on cocoa powder others melt a piece of dark chocolate in hot milk. In the Netherlands and in Amsterdam hot chocolate and ice skating are intrinsically connected. Grab your skates and hasten to the skating rink at Museumplein in the centre of Amsterdam during the winter months. When you are done skating, be sure to try traditional Dutch winter treats like pofferjes (mini pancakes, but better than pancakes), stroopwafels (treacle waffles) and hot chocolate.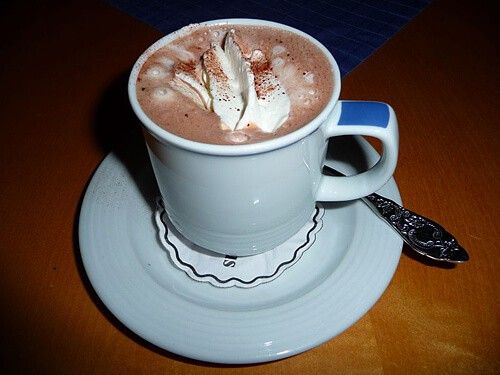 Hot Chocolate
Take a spoonful of powered cocoa mix it with a little cold milk. Stir well to avoid lumps. Add hot milk and sugar to taste. This is one of the way how to make hot chocolate. It is good but not the best. Traditional Dutch hot chocolate made of dark chocolate takes a little longer to make but tastes heavenly compared to hot chocolate made of cacao powder. Traditional hot chocolate tastes velvety and soft, as if an angel has landed on your tongue.
Ingredients for three big mugs
½ liter milk
80 g dark chocolate
1 egg yolk
1 tbsp sugar
Method
1. Melt the chocolate au-bain marie
2. Bring the milk to the boil
3. Add the milk to the chocolate, stirring all the time
4. Whisk egg yolk and sugar together in a separate bowl
5. Add the milk and chocolate mixture and whisk thoroughly
What is au-bain marie?
Au-bain marie is a method to dissolve the chocolate slowly. You will need a double boiler. If you haven't got one, you can use a small saucepan and a heat-proof bowl. Rest the bowl on the brim of the saucepan. Fill the pan with water. Bring the water to the boil, reduce the heat. Put the chocolate in the bowl and stir until dissolved.
Adapted Version of Hot Chocolate Drink
* Leave out the yolks, if you don't like to eat raw eggs.
* Use milk chocolate and leave out the sugar. The taste is less 'chocolaty'.
* Use white chocolate. The result is a very sweet drink which is only reminiscent of chocolate.
photo credit 4028mdk09