Free Things to Do in Amsterdam
The Dutch are renowned for their 'commercial mind' and for most Amsterdam attraction you will have to spend a few euros. Free things to do in Amsterdam include strolling along canals, free concerts, a free museum and many more freebies. Below you will find budget-friendly tips for your visit to Amsterdam that won't cost you one single eurocent.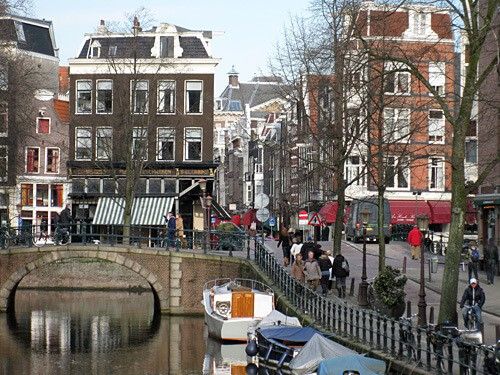 Spiegelgracht in Amsterdam
1. Canals
Stroll along leafy canals or grachten as they are called in Dutch. Take in the splendour of the gables. Watch canal boats glide past. Empty your head of thoughts, a canal walk is the best remedy to get rid of stress. Be sure to wander around Oudezijds Voorburgwal and Oudezijds Achterburgwal, two canals in the heart of Amsterdam. Pop in at Cannabis College, if you want to know more about the use and abuse of cannabis and hennep. The entrance is free.
2. Schuttersgalerij
Fifteen impressively large paintings depicting wealthy citizens and members of the Civic Guard are exhibited in the Schuttersgalerij or Civic Guards' Gallery. This Gallery is part of the Amsterdam Museum, free of charge and situated in a covered passage leading to the Amsterdam Museum. Enter from Kalverstraat 92 or Sint Luciensteeg 27 or Begijnhof
This 17th century portrait gallery portrays members of the Civic Guards. Each member had to pay to be included in the painting. As the fees were high only influential and important people were portrayed. This was a lucrative business for painters in those days. The best known work of art of this genre is De Nachtwacht (Nightwatch) by Rembrandt,. However, if you want to see this famous painting, you will have to go the the Rijksmuseum and pay for your ticket.
At the far end of the gallery stands a huge wooden figure representing Goliath. This statue was never meant to be a work of art. They were made in the 17th century and meant as an attraction in an Amsterdam amusement park.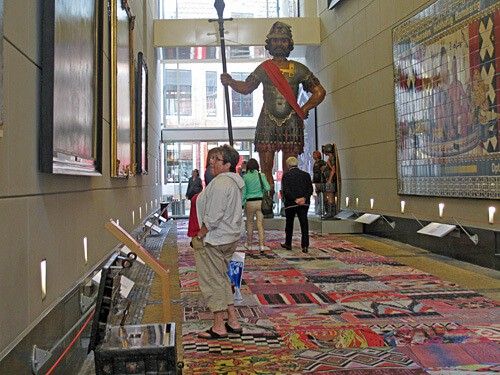 Schuttersgallerij, Amsterdam Museum

Soak up the serene atmosphere at Begijnhof, just round the corner from the Schuttersgalerij. This enclosed courtyard was built for a catholic sisterhood, Begijntjes, hence the name. They lived like nuns but without monastic vows. At number 34 you can admire Amsterdam's oldest house, built of wood and dating back to 1420.
Look at the colourful flowers at the Floating Flower Market at the Singel Canal between Koningsplein and Muntplein. Get dizzy with the sweet smell of hyacinth in spring, fragrant roses in summer and tangy smell of the Christmas trees in winter. The flower stalls are on houseboats and are the ideal place to stock up on bulbs that are approved of for export
5. Free Concerts
Listen to free lunchtime concerts in het Concertgebouw on Wednesdays at 12.30. Afterwards go jogging in the Vondelpark, the largest park in Amsterdam and join skaters, ambling mothers and sunbathing teenagers. If you are in Amsterdam from May to September check out what is on in the Open Air Theatre (near the Eeghenstraat entrance to the park). No entrance free, but donations are welcome.
photo credit Marianne Crone