Located just 10 kilometers north of Amsterdam, Zaanse Schans is the perfect escape from Amsterdam's hustle and bustle, especially on a sunny day. Zaanse Schans is a museum village lived in by real people The village was created in 1960 as a monument to local life in the 17th and 18th centuries. Houses, farms and windmills from that period were brought over from other places in the Netherlands and placed in the village. Today the villagers operate beautifully restored windmills, carve wooden shoes and produce traditional cheeses.
Windmills Zaanse Schans and Volendam and Marken
There is more to see in the Netherlands besides Amsterdam! The museum visit village Zaanse Schans and the villages of Volendam and the former island Marken are two popular day trips from Amsterdam. You can do this trip under your own stream but is quite a hassle when you use public transport. Take it easy and go on a day trip and enjoy the Dutch (very flat) countryside.
Leave Amsterdam behind and go on a trip and visit Zaanse Schans with its green-timbered houses and fishing villages of Volendam en Marken where some of the locals still wear traditional costumes. The trip includes: 1-hour canal trip in Amsterdam, transport by coach, boat trip from Volendam to Marken and entrance fees.
Windmill Museum Village
If you are a bit of an individualist and want to visit Zaanse Schans without joining a tour group, but dread the hassle of buying a train ticket etc., purchase the package 'Zaanse Schans – Windmill Village'. You decide when you go! And everything you need to make this trip by public transport a success is included.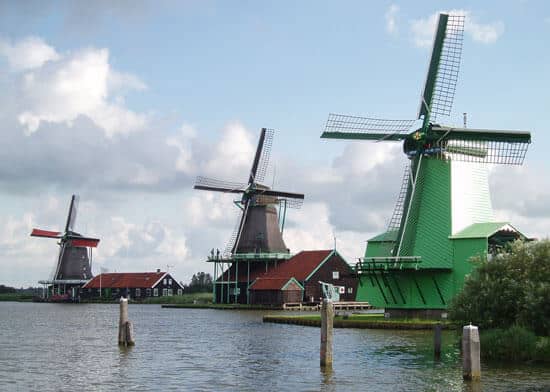 Zaanse Schans Tour
The Package includes:
1. An open return ticket for the bus from Amsterdam Central Station to the Museum Windmill Village 'Zaanse Schans'.
2. A tour of the 'Bonte Hen' windmill, a grinding mill that crushed linseed and peanuts to produce vegetable oils.
3. Entry to The Kooijman Museum and a demonstration how clogs are made. You will walk away with your own mini clogs.
4. At the Henri Willig farm you will see how cheese is made. After the demonstration you will taste different kinds of cheese. You go home with a nice present: a Dutch cheese slicer.
5. In Pancake Restaurant de Kraai, you can savour authentic Dutch Pancakes (be sure to have one with bacon and treacle) and wash it down with tea or coffee.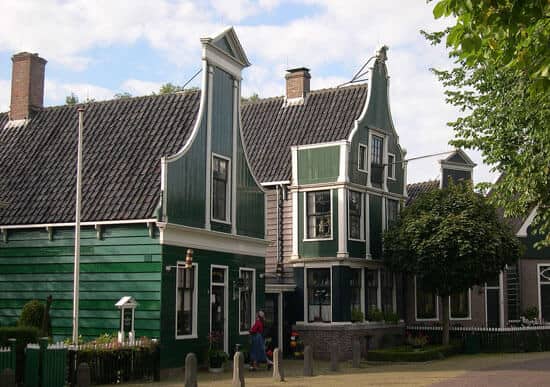 What to See and Do
Wander about Zaanse Schans and pop into places that interest you. The Kat Windmill grinds plants into artists' pigment. The same pigments Rembrandt used for his paintings. Climb the steep stairs, see and hear the creaking inner works set into motion by the revolving sails.
Cheese farm Catharina Hoeve is a working farm. Try a bite-size cheese sample and buy your favourite cheese. Then tour the workshop which reveals all the secrets of cheese making.
Wooden Shoe Workshop Kooijman is the place where craftsmen transform blocks of wood into clogs. A clever device scoops out wood and allows the wooden-shoe maker to produce two identical clogs. Attached is a small museum displaying wooden wedding shoes, intricately carved clogs and rollerskate clogs.
Indulge in old-fashioned sweets from the Albert Heijn store. These days Albert Heijn is Holland's number one supermarket. The shop in Zaanse Schans is the original first Albert Heijn shop.